Tagged by

Rules:
1) Choose one of your own characters (OC).
2) Make them answer the following questions.
3) Then tag 5 people.
4) Feel free to add some questions of your own.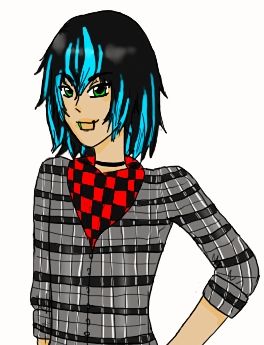 0) What is your full name/title?
James Allen Mischvik
1) What gender are you?
Male
2) What is your age?
18
3) What is your eye color?
Emerald green
4) Do you want a hug?
Of course.
5) Do you have any bad habits?
I tend to flirt with a lot of boys.
6) What is your favorite food?
Steak.
7) What is your favorite ice-cream flavor?
I'm not quite sure.
8) Are you a virgin?
Nope.
9) Have you killed anyone?
Almost.
10) Does anyone hate you?
Probably.
11) Do you have any secrets?
Yea.
12) What is your favorite season?
Winter.
13) Who is your best friend(s)?
Sam, Miguel, Nate, Alex, and Conner.
14) What are your hobbies?
I like to go to clubs, bite people, sometimes just be in my own solitude in my room.
15) What is your favorite drink?
Blood, type O.
16) When is your birthday?
October 31, 1995.
17) What age did you die?
I haven't actually died yet.
18) Are you social or shy?
Social.
19) What do you think of your parents?
I haven't talked to them in years. They're pretty nice and accepting though.
20) What's your weakness?
Pale skin, thin body, long hair, light eyes, things of that sort.
21) How long can you stay under water?
Possibly two minutes.
22) What do you do on a regular day basis?
Hit on guys.
23) Do you love someone?
Yes.
24) What's your favorite band?
I'm pretty old school.
25) Ever worn a dress?
No.
26) Willingly?
Absolutely not.
27) Ever kissed anyone?
Yes.
28) ...Of the same gender?
The best kind~
20) What's your favorite thing to touch?
Heh. Let's keep it PG here.
30) Anyone loves you?
Yes, many people.
31) What's your favorite color?
Cyan.
32) When was the last time you cried?
Most likely, last month.
33) Do you have a pet?
No.
34) Are you crazy?
I wouldn't call myself crazy, but other people may think differently.
35) What are you?
I'm a half vampire.
36) What´s your nickname?
James. I suppose.
37) Do you consider yourself a happy or a down person?
Happy.
38) Favorite movie?
Wizard of Gore.
39) What is your current occupation?
I work at Imo's, heh.
40) What bugs you?
Vegetarians.
41) What's your favorite song?
I don't actually have just one.
42) Do you consider yourself a warrior?
Yes, I do.
43) Have you 'done it' in the past month?
Yes.
44) Ever think about getting married?
Not yet.
45) Have you ever had a sleepover with someone of the opposite sex?
Yes.
46) When was the first time you did it'?
When I was 16. It was pretty nice.
47) Do you have any piercings anywhere?
Yes. Bottom lip and both ears.
48) Favorite hang-out spot?
My bedroom.
49) Where do you like to eat?
Almost any place is fine with me.
50) Do you like video games? If so, which ones?
Yes. First person shooter.
51) Favorite article of clothing:
Red and black checkerboard handkerchief.
Pop goes the weasel-

,

,

,

,

.